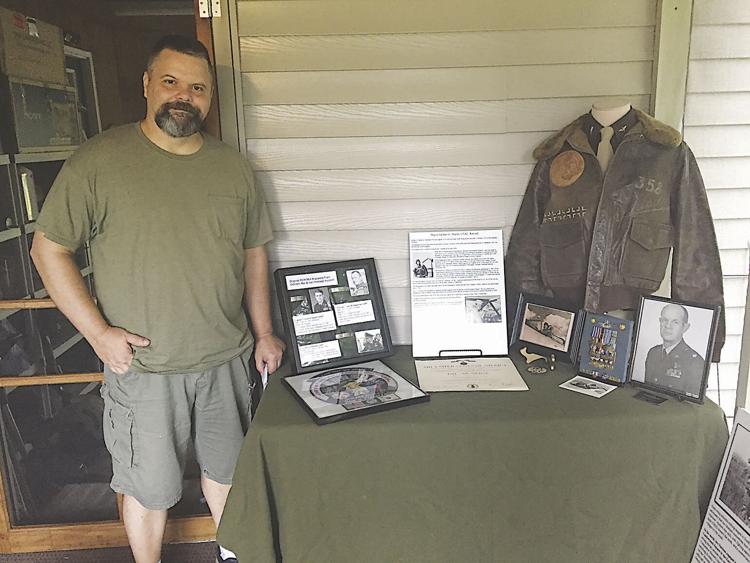 A couple from the Chicago, Illinois area have found their way to Murray, and have made it their home since July of this year. Not only did they bring themselves, they also brought a literal truck load of history in the form of war memorabilia. Robert "Bob" Dymek and his wife moved to their new home north of Murray, and found a property which included a large freestanding garage where he is able to store his vast collection. Bob has a Vietnam Jeep that he restored which he brought with him to Murray.
Bob served with the Navy during the Gulf War, was then on reserve status and called to active duty after Sept. 11.
"I served in the U.S. Navy and as I watched the towers in New York being hit by the planes, I knew I was on reserve status," said Bob. "I began packing and the phone soon rang and the voice said 'Welcome back to active duty.' I was one of the first groups to be shipped out, and we were sent to Guantanamo Bay, Cuba, to prisoner of war duty."
Bob returned to reserve status after serving in Cuba and found the U.S. Army was offering a program where you could go from the U.S. Navy to the U.S. Army, so he switched over and was assigned to an infantry unit. He was deployed from 2004-2005 to the Iraqi Freedom Operation. When he returned, he left the service in 2005.
Bob had family in Camden and Waverly, Tennessee, and therefore had driven through Murray many times.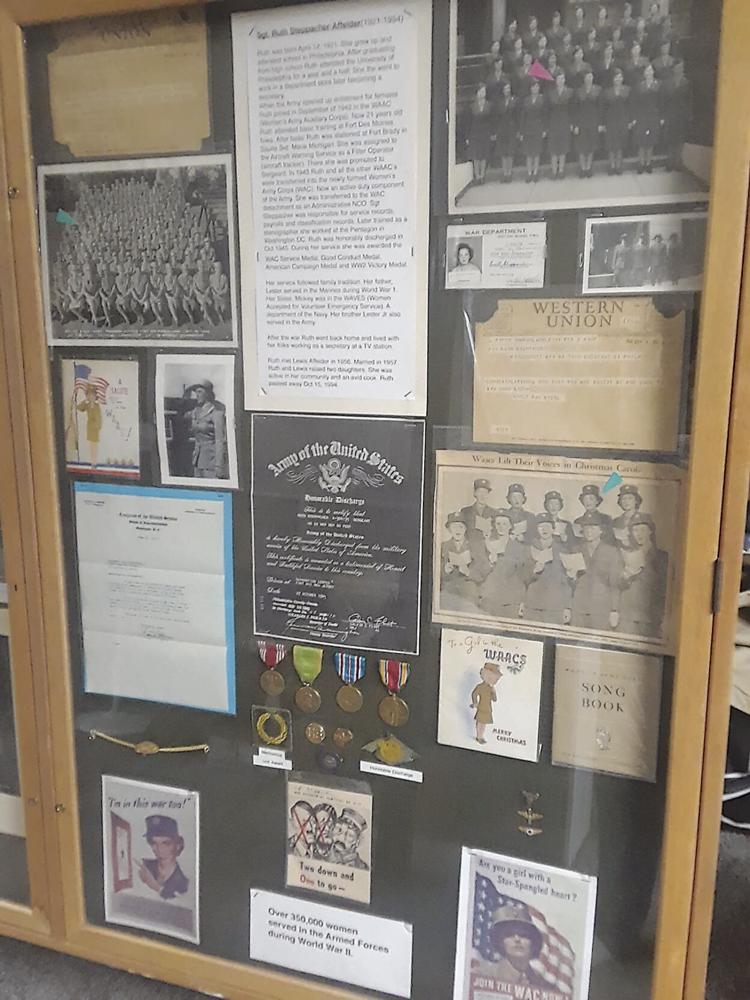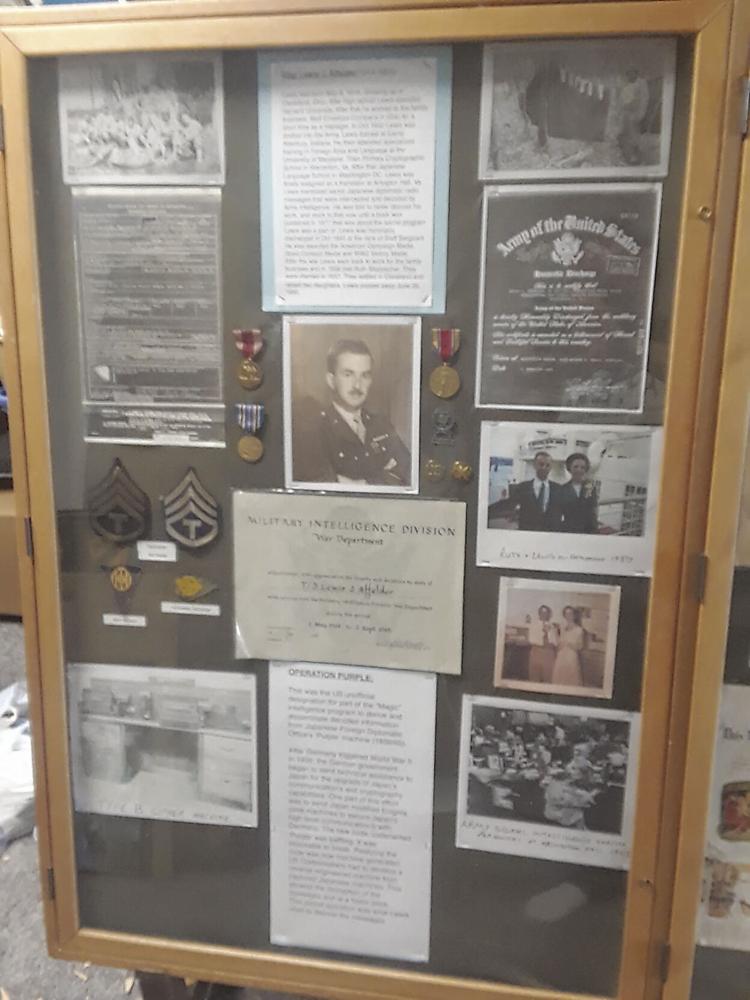 "My wife and I wanted to move south after my retirement," he said. "We began looking in Tennessee. I needed some land and a building for what I was doing, and we couldn't find what we were looking for. We thought about Murray and my wife started looking here and found several properties that suited our needs. We settled on this house north of Murray."
Bob said after he came back from deployment in 2005, he began looking around for some military museums, but even in a large metropolitan area like Chicago, there was not much there.
"I thought about what it would take to incorporate something," said Bob. "I knew I couldn't afford a brick and mortar museum, but with a mobile museum I could bring the exhibits to the public in smaller towns and areas. I began filing the paperwork in 2016 and was granted nonprofit status."
Bob bought an enclosed trailer so he could travel with his exhibits and starting spreading the word. He spent most of his own money to get it up and going, and recruited volunteers to help with refurbishing the memorabilia and sitting up exhibits.
"We built displays that are tabletop or on wheels that can roll in and out of the trailer," said Bob.
Bob has collected most of his memorabilia through donations from family members who had someone to serve in the military and were left with items they were not sure what to do with. He also had his own military items and those of his grandfather. Some items he has purchased at auctions or on eBay.
"Once I got the word out, I would get phone calls from people I did not know," he said. "Someone called me and said a lady who worked at a pizza place was walking past a dumpster and saw a footlocker. She took it out of the dumpster and found it was full of someone's uniform and other military items. She went to her local VFW, but the problem is that most VFWs and American Legions do not have the space to keep and display these types of things and so they would pass them on to me."
On the morning that I visited with Bob, he had some of the military displays on his screened porch and just what he was able to display in this small area was very interesting. There was a display of POW bracelets that were sent to him. He did research on all of them and found that one had spent 444 days in captivity in 1979 in Iran.
"Nobody remembers what happened then, so it stirs a lot of memories," Bob said.
A patch from the Korean War was found in an abandoned house by the people who were renovating the house and they called him to see if he wanted it.
Bob said besides having the mobile exhibits, there was a small airport owned by the state of Illinois and they let him use a room for free.
"I had displays throughout the terminal, but we also rented a hanger with our own money, to have an area to work on restoring items," he said. "One of the displays we had there was a collection from a bomber navigator from World War II, and it was on its way to a dumpster when we saved it."
For Bob, this is history that needs to be made public.
"One of my favorite quotes is from a philosopher, George Santayana, which says "Those who do not remember the past are condemned to repeat it."
Bob's collection mostly represents the United States. Some have given him Japanese and German items, and he says he will take those, but he mostly focuses on our nation's men and women.
"Before the coronavirus hit, I would bring body armor to the elementary schools and the kids would put it on and learn how heavy it was," he said.
Since Bob is new to Murray, he is needing volunteers who would help with moving and setting up the displays.
"Since we are a nonprofit organization, I always seek donations that are used exclusively to purchase items not normally available by donations from family members," he said.
If people have something, I am more than happy to pick it up," he said. "I love to do a detailed history of the person and I have many complete collections given to me by members of their families. That is what I love to focus on."
Bob has created huge panels that are 4 ft. tall by 9 to 12 inches wide.
"For instance, I have a husband and wife who both served in World War II. One panel is dedicated to him and contains his entire story. He was one of the men responsible for breaking the Japanese code. She was a WAC (Women's Army Corp), and I have a picture of her and her medals and other information I found."
Bob says he has another display sent to him by a wife who had kept everything from her husband during World War II.
"She saved everything including all Western Union telegrams where he was wounded several times," Bob said. "He was killed and buried overseas. I have information about him from when he was born, before the war, during the war and when and where he was killed and buried. She brought him back to the U.S. in 1946. I not only detailed him, but also his unit. When the wife passed away, I put her on one of the panels. She never remarried."
"I bought a Korean Army uniform off of eBay," said Bob. "The soldier's name was stenciled on the pants. I sat down at my computer and found the obituary which was from the east coast and called the funeral home to asked if they knew him. I left my information with the funeral home, and I received a call a few days later. Come to find out the name I found who had passed turned out to be the man's son and the man whose uniform I had was still living. He asked me how I ended up with his uniform and I told him I bought it on eBay. The man said he had given it to a friend who said he was going to put together a museum, but found out later the friend had sold everything and the man thought his uniform was gone forever. We exchanged information and he told me that when his time on earth ends, I just might receive a delivery in the mail. He was so happy that his uniform was indeed going to be displayed in a military museum."
Bob said that one of his biggest hurdles is to convince people that he is legitimate and that is why he has all the paperwork necessary to show he is a nonprofit organization.
If anyone is interested in volunteering to help with the traveling museum, or perhaps wishes to donate to help with purchase of materials for the displays, please contact Bob at the information below. He is also needing seamstresses who might be able to sew patches on old uniforms. There are many opportunities for those interested in military memorabilia and Bob is also available to set up some mobile displays at a venue as long as it can be done in a safe way due to the virus.
"There is nothing I enjoy more than seeing people looking at the displays and pictures and asking questions," he said. "It brings this history to life, especially for the younger ones who have never experienced war. But it also brings back memories of many who had parents and grandparents who served our great country."
To contact Bob, email him at GHQmilitarygroup@gmail.com or call him at 708-923-6659. He has a website which can be viewed at www.ghqmilitarymuseum.com.