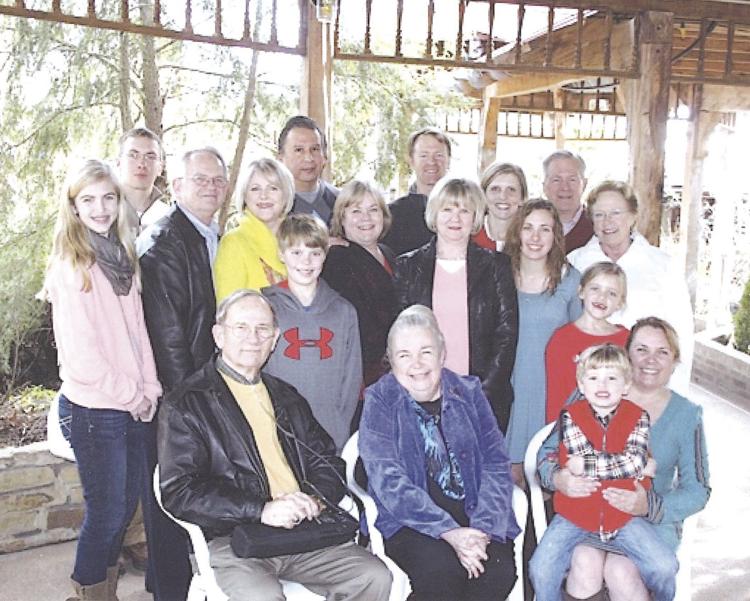 During this series, I have touched on some of the organizations that Donna has been involved with, but the final story about Donna has to be all that she has given to her community.
Donna was instrumental in establishing the Angels Community Clinic.
"This idea came to me when I was at the Family Resource Center," said Donna. "One of our primary components for programming was medical care. Vicki Williams was the school nurse at the time, and she came to me in tears saying we had to do something about medical care. She had a small child with a high fever who didn't want to go to the nurse's office. After they finally got her to see Vicki, she backed as far away from her as she could. When Vicki took her temperature, it was 104 degrees. Vicki told her she had to call her mother and the child burst into tears and told her that her mother said they couldn't afford for her to be sick anymore this year."
Donna said a board was formed and Vicki was on that board. A program for Kentucky began about this time that covered medical care for children, and Donna said they received a grant to spread the word about this program and at the same time continued working on opening a free medical clinic.
"We knew parents needed medical care to keep their jobs and take care of their children," said Donna.
After finding the first medical director of the clinic, Dr. Russ Howard, the clinic was opened with the help of many people and the support of the Murray-Calloway County Hospital.
"We struggled to keep a steady stream of income to support the clinic," said Donna. "I was so worried trying to keep the clinic going. I just finally had to let go and turn it over to the Lord. Within a week, I received a call from a retired nun. She told me she had read about the clinic in the newspaper. She was an only child and her parents had died and left her their estate. She told me her needs were very simple and she had a $10,000 CD maturing and asked if we could use it. I quickly said, 'Thank you Lord!' I told her I had given this to the Lord a week ago and had no idea he was going to answer my prayer like this. I explained to her the dire straits we were in. We decided to publicize that we had an anonymous donor who would match donations up to $10,000, and by the end of the month, we had $20,000."
A few months later, Donna received a call from Rose Bogal-Allbritten, who was active with St. John's Episcopal Church, which had been very supportive of the clinic.
"She had gone to a Episcopal conference in Georgia," said Donna. "She was on her way to a session she was interested in attending, and just as she left the hotel to cross a big parking lot to another building, it came a sudden downpour out of nowhere and she had no umbrella. She said it was too far to walk without an umbrella so she decided to go to another session closer and this one was about free clinics. She found out about a free clinic in New Jersey that was supported by a thrift shop. God works in mysterious ways!"
Rose wanted to meet with Donna and Donna said it was the week of spring break and the only day she had not planned to work.
"I wanted to get some house cleaning done, but I told her I would meet her instead," said Donna. "After she explained the program, I told her I thought this was the answer to our prayers."
As it turned out, the St. John's Diocese had purchased the property next door to the church where several small houses existed. All the houses were cabin-size, but there was one that was larger. The diocese gave permission to the church to use that house for a thrift shop.
"We began the thrift shop and were open one day a week to accept donations and one day a week to sell," said Donna. "At the time, there was nothing like this in Murray. We were overwhelmed with donations and people were wanting to bring furniture. Paschall Truck Lines gave us a trailer to sit on the church property to hold furniture and on good weather days, we would put the furniture out in the yard to sell."
An Angels Attic board of directors was formed and Rose was the first chairman.
"Jules Harcourt and I began to look for another location for the thrift shop," said Donna. "We went all over town, but we kept coming back to where Angels Attic Thrift Shop is located now. Back then it was home to Murray Home and Auto, owned by Nelda Murphy. The business had closed after the death of her husband. I called her and explained about the clinic. She told me the building needed some work and I asked her if I could find volunteers to do the work, would she rent it to us. She agreed and in fact, gave us several months of free rent and we were up and running."
Donna was a founding board member of Angels Attic, which opened in 2002, and she continues to serve on the board, including several terms as chairman. Angels Attic Thrift Shop continued to support the Angels Community Clinic for many years, is now supporting the Gentry House, and its board is looking into other organizations where funding is needed.
During her time with the Family Resource Center, Donna also established the Santa Project, which was ongoing until 2003.
She has served on the United Way Board many times and was named the United Way of KY Volunteer of the Year in 1993 and was presented the Kathie Gentry Lifetime Achievement Award in 2010.
Donna could see with all the organizations she was involved with that there was still a lack of information between agencies and nonprofits. She formed CUBS – Calloway United Benevolent Services – and has chaired this organization since it began in 1995. There are approximately 130 agencies, organizations, churches and other institutions and entities with a service mission that attend a quarterly CUBS meeting at Glendale Church of Christ.
"Initially, we shared information about community resources, identified unmet needs and provided information and updates on agency and organization activities," Donna said. "This is still an ongoing program and we share information with all the agencies in our community to meet the current needs."
Donna became involved with Need Line and requested and received approval from their board to include personal and household hygiene products in their distributions. They also began the Project Emergency Need Line Utility Fund in 1996.
CASA (Court Appointed Special Advocates), is an agency where advocates are appointed by a judge to watch over and help children who are abused and neglected. This organization began in 1997 and Donna wrote the original $50,000 grant and served as a founding board chairman. She received the CASA Lifetime Achievement Award in 2014.
Other recognitions Donna has received was been being named the Murray-Calloway County Chamber of Commerce Citizen of the Year in 2000; receiving the Sigma Sigma Sigma Woman of Distinction (a national award) in 2007; the Humanitarian of the Year by the Murray Rotary Club in 1994; and being presented the "Above and Beyond Award" by the Kentucky Family Resource Youth Service Center Coalition at a state meeting in Louisville.
When Hurricane Katrina hit New Orleans, Donna became involved in the Community Concerns and Needs Team that organized in Murray in 2005. More than 100 Katrina evacuees were brought to our community and the group met monthly to address the ongoing needs of these and other community members. Donna is still personally assisting a few of these evacuees who have remained in Murray to this day.
Donna is a very active member of the University Church of Christ and the Murray Woman's Club. She has served as an ambassador for the local Chamber of Commerce and also on the chamber board. She is currently chairman of the Enduring Hope Campaign for the establishment of a Regional Cancer Center at the Murray-Calloway County Hospital.
"I know how important this center is to our community," said Donna. "When I was asked to be a part of this fundraising effort, I prayed about becoming involved and felt guided that this was what I needed to do. Woody received such wonderful care in all the years he battled cancer and I want to be sure this center stays in our community so people don't have to travel to receive the care they need."
Donna has also been instrumental in establishing the Homeless Coalition in Calloway County.
If you know Donna very well and have spent time with her in a meeting, you couldn't miss seeing her writing on her hand. Donna keeps her "to do" list in ink on the palm of her hand.
"I first started writing on my hand because I didn't have any paper around," she said.
Since she is right-handed, the left palm is always full of things to do for the day.
Donna may not have as many lists to make these days, but she stays busy each and every day and so therefore, still needs to use her palm-writing.