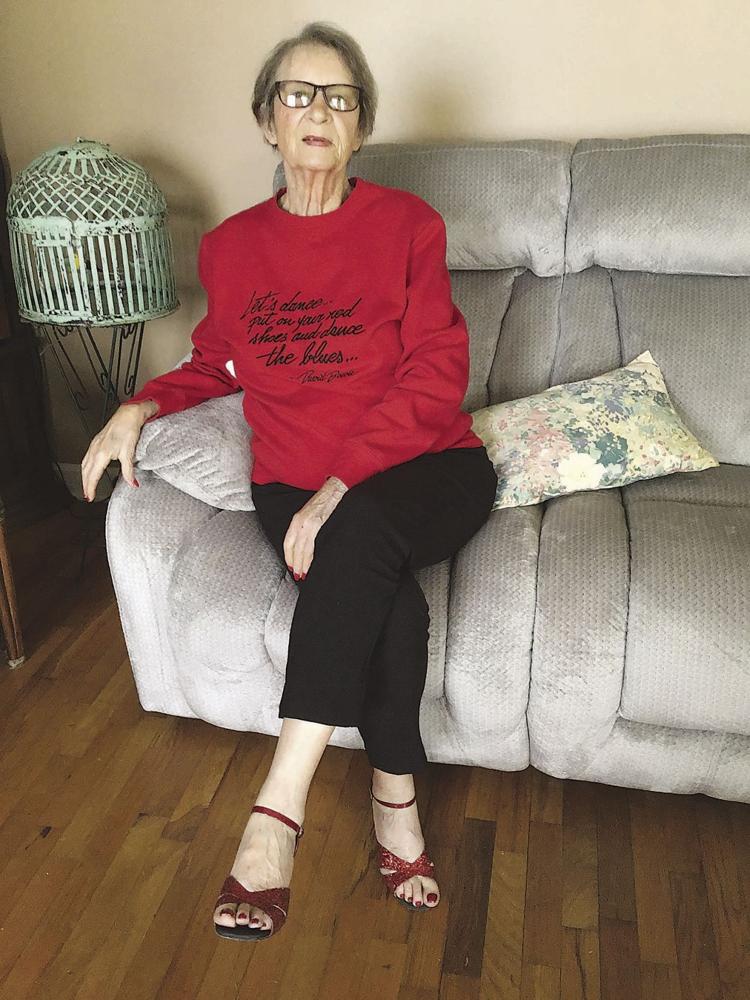 Georgia Speight Douglas of Murray fulfilled a dream of hers a few months ago.
Georgia has published three books of poetry and short stories and she has always admired Kentucky poet Lee Pennington. Pennington was named a Kentucky Poet Laureate in 1984, has written 19 books, produced many films, mostly documentaries, and was nominated twice for a Pulitzer Prize.
Georgia said she heard about Pennington through her friend Jesse Stuart.
"He was mentored by Jesse Stuart," said Georgia. "Stuart was his principal at his high school in Greenville. Lee graduated from Berea College and his first teaching job was in Harlan. He was literally run out of Harlan because he was accused of teaching the children about things that were deemed unnecessary. It was a very traumatic period for him and he wrote a book called 'Bloody Harlan.'"
Pennington later retired from teaching at Jefferson College in Louisville.
Georgia was in Louisville visiting with her son Allen and he mentioned he had arranged a lunch with a new friend of his, Dick Wilson. Alan had told Wilson his mother was a poet and an admirer of Lee Pennington and Wilson turned out to be a friend of Pennington.
Georgia was very excited about this opportunity and she and Allen met Wilson at the Brown Hotel. When they arrived, Wilson told her that Pennington had planned to also join them, but something had come up and he was unable to attend.
"We had a delightful visit," said Georgia. "A week later, I received a book of Pennington's in the mail from Dick Wilson. I was so surprised and pleased and I composed a thank you poem to send to Dick."
Georgia has published this poem, "The Gift," which is included in one of her books of poetry.
Also to add to the connection with Pennington was Georgia's friendship with Justin and Shannon Roberts of Murray.
When Georgia would leave her lake house to come into town, she would pass the Roberts' residence, and she had also made friends with them through the Murray Art Guild.
"One day I stopped by to give them one of my books," said Georgia. "Shannon came out and we were talking about things that were going on with them and she told me they had just returned from a trip to Louisville because they were involved with the Bernheim Forest Project. This forest consists of several hundred acres of preserved forest just outside of Louisville, and Louisville Gas and Electric planned to put a pipeline through the forest. A benefit to prevent the pipeline was held in Louisville and Justin created some willow sculptures for the event. Lee Pennington was also a part of this event and they all became acquainted."
The day Georgia stopped by the Roberts' house to give them her book, Justin told her that Lee Pennington was planning to do a poetry reading in Louisville and requested her to be a part of that reading. Georgia could not have been more excited to accept.
"The reading was at the River City Brewery in Louisville," said Georgia. "Lee introduced me, and honestly, I didn't know who he was talking about. He really 'blew me up.' He said that although they had just met, he felt such an affinity with me and told the audience they were in for a treat."
Georgia read five of her poems from two of her books and at the end she told the audience - "the very last poem I will read is for Lee."
(Georgia had received a text from Wilson after he had received the thank you poem and he told her he was very impressed with her poem and Georgia said, apparently, he had shared it with Pennington.)
"So I read 'The Gift' and received a standing ovation," said Georgia. "Now Lee and I have connected and it is a dream come true for me."
According to Georgia, Pennington has written a book, "Thigmotropism," which is his first in 20 years and is the one that her friend Wilson sent her.
Georgia has published three books, "Emotions of a Woman - Reflection," published in 2001, which was part of her grieving process after losing her husband in 1997. "Moon Stages," published in 2002 was, according to Georgia, her attempt to show she could be funny, and "Cedar Fence Rows," 2008, is a collection of short stories.
Georgia said she never intended to publish a book.
"My Daddy was dying and I was reading my poems to him by his bedside," said Georgia. "He came out of a comatose state and said, 'Daughter, put it in a book.' And those were the last words he said to me."
Georgia started writing poetry when she was 10. She said her teacher, at that time, had her class to compile a poetry anthology and we did it on three-by-five cards.
"That is when I absolutely fell in love with poetry and all the famous poets," said Georgia.
She was writing occasionally and during her freshmen year in high school, she had two outstanding teachers, Lillian Lowry and Ms. Faughn.
"They were absolutely wonderful and inspired me more," said Georgia.
Georgia went on to graduate from the University School and enrolled at Murray State University to major in elementary education. But after graduation, she planned to be a foreign missionary.
Georgia said that once she wrote a poem about a boy she had a crush on and she wrote it in her Bible.
"I felt guilty about writing it in my Bible," said Georgia. "But many years later, when I was a freshman at Murray State, I was sitting in a class and instead of listening to the lecture, I was writing a poem. The professor noticed, called me out and asked what I was doing and I told him. He made me read my poem to the class and I was mortified. He then asked me if I had any more poems and I told him I did. He asked me to bring them to him, which I did. A few days later, he returned them to me and asked me if he could send them to a publisher. I was 18 and had heard horrifying stories about rejection from publishers and I told him I was not interested. I threw all my poems away and the only one I had left was the one I had written in my Bible."
"The Gift"
Had it not been a day
when office was closed, imaginary lines
upon which we talk…silent.
Your world at bay,
rest.
I would have rushed to voice.
Instead, I rushed to pen and pad,
words flowing from the heart…
a sweeter choice.
This priceless gift comes as a gentle swans'
wing snow is falling.
Nights' blowing rain, frozen. The resting trees
glistening from the kiss of sun. A perky
little Wren is calling,
A thank you to me for an offering.
As puddles of Spring promise I have planted,
rest beneath the frozen ground…
I shall read again and again these thoughts of
boundless beauty - this glorious book that you have found…
for me.
Oh the emotions these words evoke!
They teach, they speak to the very soul!
And,
when chance allowed our meeting,
I knew
I have touched a tender, precious spirit…
Thank you!
As I was reading through Georgia's book, "Moon Stages," I noticed a photo of Elsie and Boogie (Thurman) taken at a school dance in 1959, along with a poem Georgia had written called "Heart Dance." Elsie and Boogie ran a dance studio for many years in Murray and Georgia was one of their students for many years.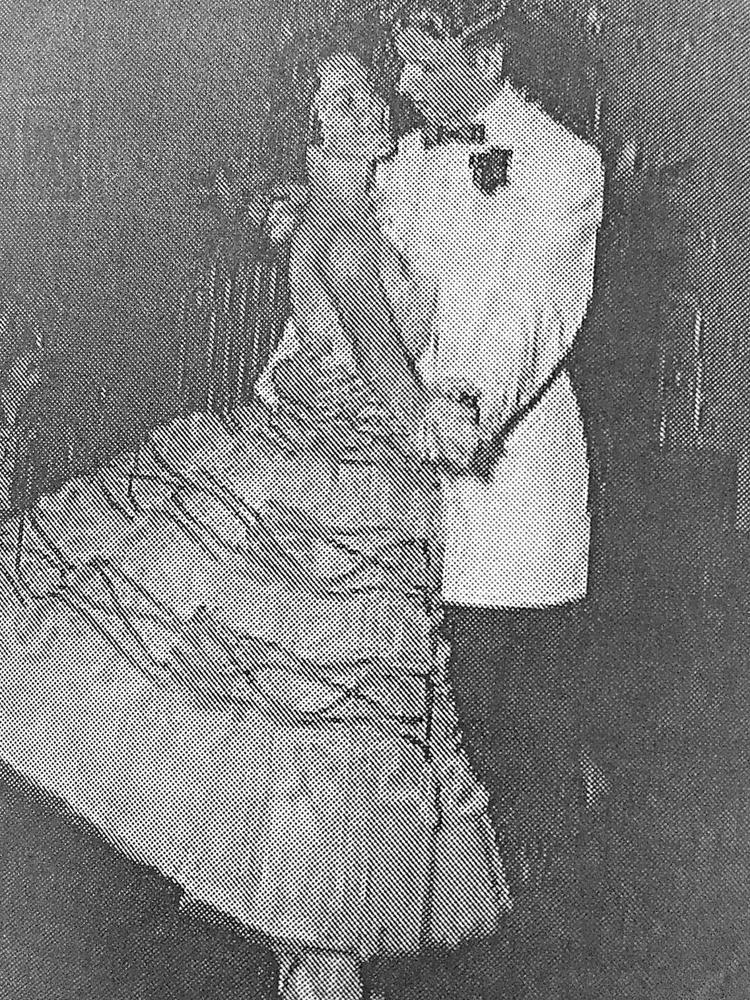 "Heart Dance"
We come from yesterday, she and I
Growing and unfolding in this little southern town
Where everyone knew everyone else
Venturesome, dramatic and lovely was she, even then
Born with a flare, echoing the least of dare.
I, serious, convicted and often uncertain
About just who I would become, admire her from afar
Her family owned the photography studio
Love's …Fittingly named
In combination father and grandfather captured our images
Generations of us in thoughtful, serious black and white
In our youth, we met and loved
In perseverance and dedication, has kept it sacred
In admiration and respect, I borrow him
For the measure of a song, returning him where he belongs
Unscathed except for the joy of a single dance
And his grace
Through stages of unfolding, she learned to dance,
And learned it well
I'm still not certain just what I've learned
But it comprises us, we two
And now
She teaches me, just where to place my feet
And how to hold my head
To open my soul to music
She watches and wisely encourages, a blossom to unfold
What she taught and I have learned
Give my heart unmeasured joy.
Editor's note: Next week I will share the love story of Georgia and her husband Del whom she lost in 1997. After talking with Georgia, this love story is one worth sharing.