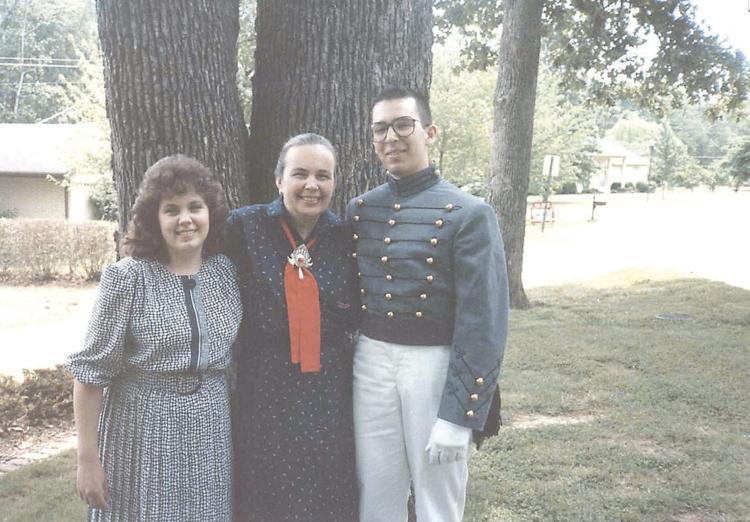 Donna was working as the Murray State University Alumni Director and Woody was flying a helicopter for Chuck Hoke. Both Roger and Melissa were at Calloway County High School.
Melissa graduated and enrolled at Murray State. While Roger was in high school, he was part of an exchange program with a school in Austria. During that trip, he and Brenda Cooper, a classmate, became acquainted and began dating when they returned to Murray.
Roger's intention was to follow in his father's footsteps and go into the military after high school. Donna said he was accepted to both the Coast Guard Academy and West Point, but he chose West Post because it was Army, which was what his father had been a part of for so many years.
Roger was studying to be an aerospace engineer at West Point and of course, he had to get his pilot's license to be a part of that curriculum.
"Academic study was heavy during the school year at West Point," said Donna. "During the summer months, the cadets were involved in training exercises and Roger was in the flight training program. Woody had taught Roger how to fly, but Woody had never wanted to get his instructor's license because he didn't feel he had the patience to teach others."
It was the summer before Roger would begin his fourth year at West Point. On Aug. 2, 1991, Donna and Woody received the news that Roger had been killed when his plane went down during training exercises.
"Roger's instructor pilot who was flying with him that day was from the Netherlands," said Donna. "The terrain there is much different. He was only two years older than Roger and had been in the states a year."
As anyone can imagine, Donna, Woody and the rest of the family were devastated. Roger and Brenda were engaged to be married and in fact, she was living and working near West Point so she could be near him.
"Cadets were not allowed to be married," said Donna. "But Brenda decided to move up there to be near Roger and began working."
Donna said Woody was beside himself thinking that Roger could have been at the controls of the plane.
"He (Woody) tortured himself because if he had gotten his instructor's license, Roger would have been able to get his pilot's license and would not have gone through this flight training program," said Donna.
Donna said officials didn't investigate the accident, but Woody hired a National Transportation Safety Board (NTSB) retired investigator to look into the accident.
"When we met with him, he told us that eye witnesses said the plane was put into a stall too close to the ground and it hit the ground nose first," said Donna. "The impact of the crash had broken the seats loose from the tracks. The investigator did not know anything about Roger or his size, but he knew most students would have been in the right-hand seat. The investigator also told them that where the pilot's seat had broken off from the track, it was positioned as far back as it could go from the controls. We knew that if Roger had been at the controls, the seat would have been closer, so we knew Roger was not at the controls of the plane. We had a hard time dealing with that."
Donna said another thing Woody had a hard time accepting was that at West Point they had the best professionals and to hire this instructor pilot that was not very experienced bothered Woody greatly.
"I felt sorry for the officer who was over the flight training program at West Point," said Donna. "He was devastated and felt responsible for Roger's death."
Donna said there were about 10 days between Roger's funeral service here in Murray and his memorial at West Point.
"We were just in limbo," said Donna. "It was so hard."
Donna was at home and she was out in her yard talking to a neighbor one day while still in Murray waiting to go to West Point for Roger's memorial service.
"I looked down and I saw this little Monarch butterfly caterpillar in the yard," said Donna. "I wondered how he had gotten where he was because they only eat milkweed and we didn't have any in our yard. I picked him up and took him in the house and went on a search for milkweed. I found some out by the park and took some home for the caterpillar. I have always been fascinated with caterpillars and the metamorphosis of the butterfly. When I was younger, my mother would let me bring them in the house until she found a chrysalis on her bed post one day."
Donna said as soon as the caterpillar had eaten some milkweed, he seemed to be happy and a few days later, they left to go to West Point.
Brenda had been at the house and she was fascinated with the caterpillar.
"I explained to her as it began to hang in the 'J' shape that he was preparing to make a chrysalis," said Donna. "She asked me how long that should take and I told her it usually takes a minimum of 10 days if they are outside and warm, but by it being inside, it would probably take about two weeks."
Brenda and the entire family left to go to the memorial service at West Point. At this time, Woody was flying off of oil rigs in the Gulf of Mexico. He had to go back to work after the memorial service, but she and Brenda stayed for ring weekend at West Point.
"Roger had been very excited about ordering his class ring," said Donna. "He had called to tell me that he and Brenda had gone to the West Point library to look at class rings. He felt it was strange that there were no red, white and blue stone rings and that is what he had ordered – rubies, diamonds and a sapphire. I told him that sounded very expensive, but he told me he had some money invested and it had paid well and he could pay for the ring."
As it turned out, Roger would never see his class ring. But his classmates wanted Donna to be there to get Roger's ring.
"Brenda and I were sitting in a friend's backyard during the time we were waiting for the ring ceremony at West Point," said Donna. "We noticed a monarch butterfly kept flying around us and we started talking about our "little friend" back home. The friend we were staying with had been running some errands and when she returned home, we told her about the monarch. She asked us if we were sure that was what it was and I told her I was positive. She told me she had lived there for 19 years and had never seen a monarch butterfly."
Donna and Brenda attended the ring weekend at West Point. At the ceremony, she found out that Roger's classmates had paid for his class ring.
"When I received Roger's ring, I put it on a chain and wore it around my neck," said Donna. "But then I began thinking about there not being a red, white and blue ring. Woody and I talked about this and felt his ring needed to be in the ring display at West Point."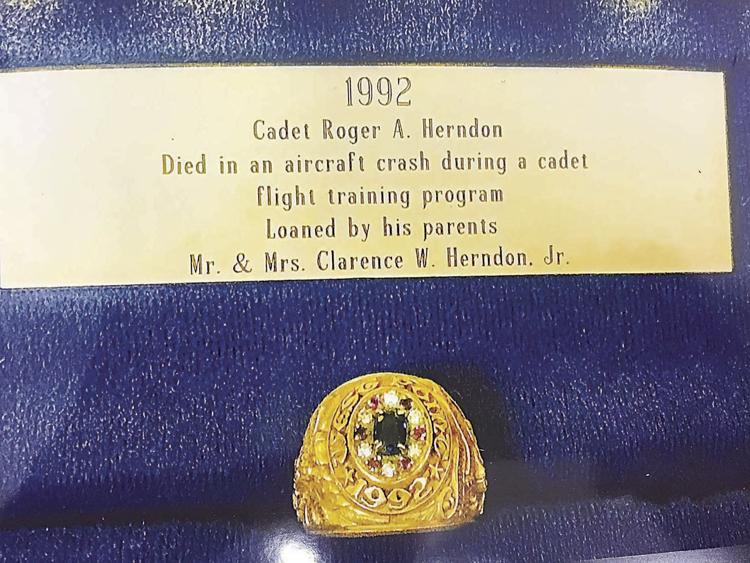 When Donna and Brenda returned from the ring service, their "little friend" came out of his chrysalis that day in the house.
"I was still in too much shock to understand the significance of all of this, but then I started to see Monarch butterflies when I was really down in the dumps and needed something and there would be a Monarch," Donna said.
Donna said when Roger died, she got a call from her cousin Jerry Hendon, who had grown up in Calloway County.
"It was about an hour after we had received the news about Roger," said Donna. "Jerry called and said 'I know this is not something that we grew up believing, but be open to signs. The Lord sends us signs. It may be birds, butterflies, e cetera, it may be something else, but just be open.' He added, 'Knowing you, I would not be surprised if it wasn't a butterfly.'"
Donna would return to West Point for Roger's class graduation.
"It was the hardest thing I have ever had to do," said Donna. "But the class wanted me to be there. Again, Woody had to work and I went with plans to present his ring. We had talked to the officials at West Point and our only concern was the ring display only held one ring which represented each of the classes at West Point. We were concerned that if another classmate died and left his ring that Roger's ring would just go in a box somewhere. We asked if we could give the ring on a "loan" basis and they agreed.
Donna said when going through some of Roger's things at home, she came across a notebook he had used in seventh grade.
"Inside the front of the notebook was a sheet of paper and written at the top was a list of goals," said Donna. "He had long term goals and wanted a career in the military. His intermediate goal was to have an academic record which was good enough to get him into a military academy."
Donna shared another significant sign from the Monarch butterfly.
"The man who was in charge of flight training at West Point was devastated about Roger and felt responsible," said Donna. "He kept in touch with us and while I was alumni director at Murray State, I was to travel to Florida because we were having an alumni gathering in conjunction with Murray State playing Florida in basketball. Emma Sue Huston from Murray had a home in Florida and she insisted that I stay with her and told me she would help me set up for the alumni gathering. I guess I had shared with the flight training director at West Point that I would be in Florida and it turned out to be where his parents lived. He insisted that I go to visit them while I was there. I really had mixed feelings about this request, but Emma Sue said I could borrow her car and she felt I should go. I drove to the house and there was a circular drive in the front. I sat there for some time trying to get up the nerve to knock on the door. I then saw a Monarch on the mailbox by the driveway and as I got out of my car, the butterfly followed me to the front door. Things like this have continued to happen to me."
Donna wrote a poem called "The Metamorphosis," dedicated to Roger. She was awarded a first place certificate for her poem from the General Federation of Women's Clubs Kentucky at its state convention.
The Metamorphosis
The lowly caterpillar
creeping, seeking
limited of sight and mind
bound to earth
In time
heeds the call
unheard by others
turning toward the Creator.
Inside the shroud
of the chrysalis
God's miracle unfolds
The Metamorphosis
Emerges now a butterfly
frail tent folded
winging skyward
shimmering, soaring
Transformed,
And so our children too
are free,
free of this world's bonds
and cares.
Sweet winged creatures
precious presence
borne heavenward
in hands of love
Glorifying God
Touching hearts with hope
Beautiful symbols of His promise
Fulfilled.