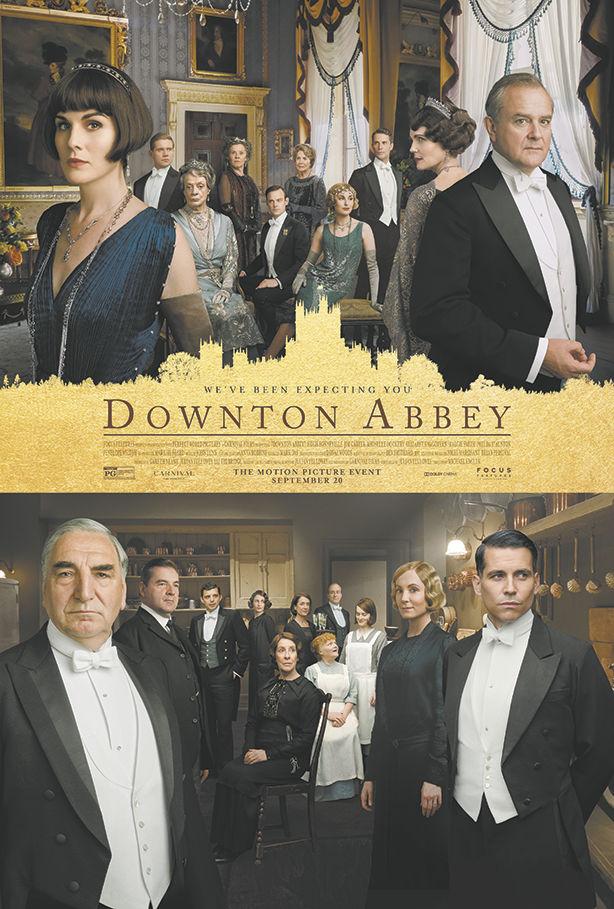 If you didn't watch the six year series on PBS, Mr. Carson (Jim Carter), the former butler, and Mrs. Hughes (Phyllis Logan), his wife and Downton housekeeper, will give you a 15-minute summary of what you missed. I was lucky to see a sneak preview of the movie last week. Here are a few tidbits.
It's 1927 and a royal message has arrived that the King and Queen are coming to spend one night at Downton on their way north. Immediately, the entire staff downstairs goes into a frenzy as preparations begin. The Silver Room is emptied and polishing begins, sheet draped rooms are aired and prepared. Tents and chairs are brought in for a Royal Review and reception but most importantly all of the Crawley family begins to arrive.
Lord Robert (Hugh Bonneville) and Lady Cora (Elizabeth McGovern) are well. Robert turned over the running of the estate to Tom and Mary with his occasional advisement. Cora is President of the local hospital, as was her mother-in-law, Lady Violet, before her. 
Lady Edith (Laura Carmichael) and Lord Hexhem (Harry Haddon-Paton) arrive with daughter Marigold; he driving their Rolls roadster without nurse, valet or chauffeur. As Bertie says," It's 1927, modern times." The question is will Mary curtsy to her higher-ranking sister and try to get along?
Tom Branson (Adam Leech) continues to live with his in-laws at Downton as he raises their granddaughter, Sybie. He co-manages the estate and farms with Lady Mary and also runs the local car dealership with Mary's husband, Henry Tolbert (Matthew Goode). After six years a widower, is it time?
Lady Violet Crawley (Maggie Smith) still has some of the best lines in the film. Sharp-tongued and knowing the best for everyone has not changed. She sees this royal visit as a chance for the family to shine in all of their historic glory. Does she have a family secret that only the royal visit can resolve?  Lady Isobel Merton (Penelope Wilton) continues to be the voice of reason and holds her own with Violet in snappy repartee which brought the audience to out loud laughter. 
Downstairs, Mrs. Patmore (Leslie Nicol), the cook is making menus for dinner, a ball, and several luncheons but her assistant, Daisy (Sophie McShera) is by her side. Daisy and Andy (Michael Fox), the footman, are still smitten. Daisy has continued her journey to becoming a "modern woman" and politically aware.
Of course, the path to the visit will not run smooth. That would be too easy and creator and writer, Julian Fellowes is much too smart for that. New butler, Thomas Barrow (Robert James-Collier) is a bit overwhelmed, but so is Lady Mary. New faces enter the picture and with them a new layer of past relationships and family secrets that may impact the family in the future. By having King George V (Queen Victoria's son) and Queen Mary involved, we add the element of court protocol, secret body guards and political intrigue.
As always, the cinematography is glorious. Highclere Castle – the real, working estate that has stood in for the fictional Downton since the show began a decade ago – does not disappoint in its majesty.  The costumes are right on point and the jewels, tiaras and crowns are priceless. Note Queen Mary's crown. It's the same one worn by her granddaughter, Queen Elizabeth, today!  
This is the movie all Downton devotees have been waiting for. The four-year transition is seamless. Even though it has been since early 2016 since the last season aired in the U.S., watching the movie, it feels like it was just last year and we are starting this new adventure where we left off.
It opens today. Join the Brown Bag Book Club for the 4 p.m. showing Friday afternoon. 
"Downton Abbey" is rated PG for thematic elements, some suggestive material and language.