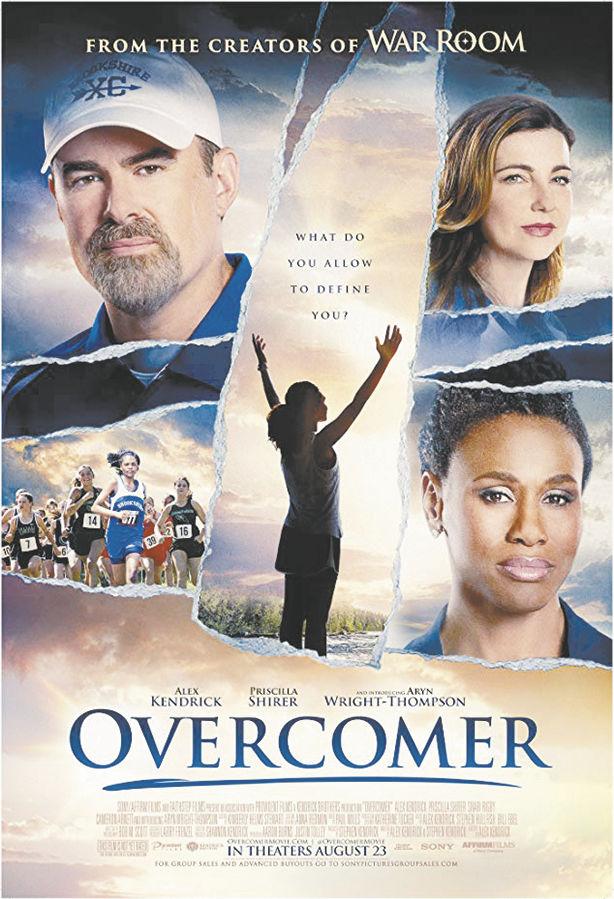 When the largest town employer closes, the high school must adjust to a new reality. Basketball coach John Harrison (Alex Kendrick) was one foul shot away from a state championship last season but now doesn't have enough players for a team. Football has been canceled and enrollment at Brookshire Christian Academy has dropped by half. 
John's wife, Amy (Shari Rigby), is still teaching chemistry, but son Ethan (Jack Sterner), will not get a basketball scholarship without playing his senior year. Then a 10% pay cut causes youngest son Will (Caleb Kendrick), to become stressed by what he sees around him. What else could happen? Principal Olivia Brooks (Pricilla C. Shirer), assigns John to be the cross-country coach. When he gets to the track, he finds only one runner, Hannah Scott (Aryn Wright-Thompson), and she has asthma!
There is more to Hannah than asthma. She is new to Brookshire. She is being raised by her grandmother who works two minimum wage jobs to support them, leaving Hannah on her own too much. Her parents died from drugs. As Hannah walks home, she stops to watch a pick-up basketball game. Eying headphones belonging to the players, Hannah takes a pair and when discovered, she outruns the boys home. She adds the headset to a box in her closet of other stolen items. 
John and Amy begin working with Hannah, but in her first race, she finishes 34th. But things are about to start turning around on a hospital visitation with his pastor. Upon arrival, they are told that only one can go in, so the pastor does and John walks down the hall. As he passes the next room, he hears a voice. "Hello" says the man. He asks if she is back to do more tests and it is then that John identifies himself. The blind patient, Thomas Hill (Cameron Arnett) invites him in. Over the next minutes, we learn that Thomas is blind from diabetes and in the hospital due to complications to his heart and legs. 
John starts talking about coaching and Thomas says he was a local star runner in his youth but drugs and "the fast life" changed all that, but not to worry because God has saved him and he is at peace. "I know who I am," the blind man says, but then he asks that question to John. John responds that he is a coach and a teacher. It is only later that he mentions husband, father and child of God. 
"When you are a child of God first, all other things will be resolved as God sees fit," says Thomas. He gives John some training pointers for Hannah but much more to consider.
​Hannah improves, but Principal Brooks finds Hannah sitting alone at school. She sits with her and explains that she was her mother's childhood friend. Hannah knows so little about her parents as Grandmother is angry and cannot forgive their drug behavior. Hannah feels alone and unloved. Miss Brooks asks Hannah about her Bible classes and gives Hannah her testimony. They pray together and Hannah asks Christ into her life. Hannah is told to read Ephesians chapters 1-2, and make a list of the things Christ can do for those who accept him.
​Things begin to change for the Harrison family, Hannah and Thomas. The stress draws them closer rather than tearing them apart. Will is training with Hannah to stay in condition to walk on a college team in the fall. Will is Hannah's biggest fan and has rallied others to root for her at meets. Thomas's health is stable, but everything turns sideways, when Hannah learns family secrets and her happiness and self-esteem are put in jeopardy.
​While the previous Kendrick Bros. films had a Christian message within a secular storyline, "Overcomer" is a testimony to Christian faith and values. We watch faith challenged by adversity and see parents resolve conflict with kindness and support, not anger and accusation. But most importantly, we see a community of like-minded individuals come together to support and lift up a town and its citizens in crisis. I tried figure out who "The Overcomer" was, but I decided it was everyone on the screen and in the theater. 
We all have trials in our lives, it is how we deal with them that makes the difference.
​"Overcomer" is rated PG for some thematic elements.