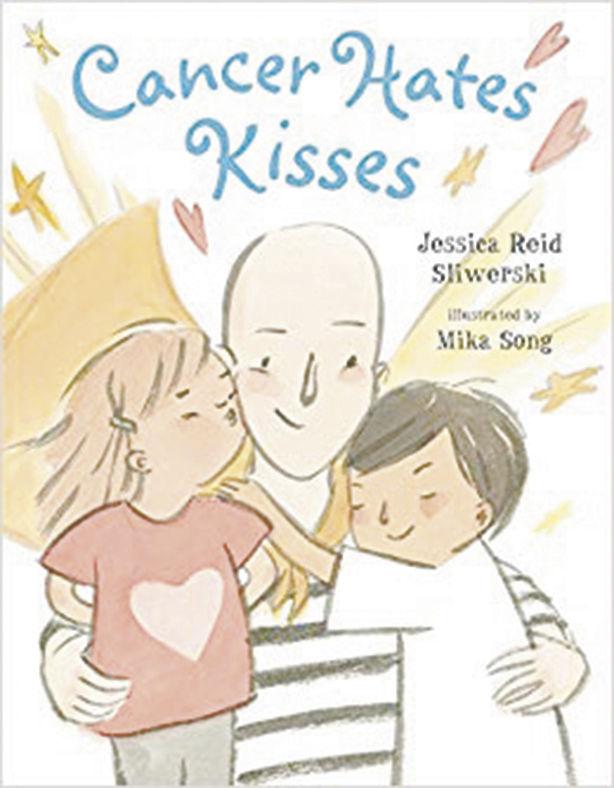 This week, CCPL Great Reads once again honors the children in our community who are bravely sharing the breast cancer battles of their mothers, grandmothers, and aunts by revisiting Jessica Reid Sliweski's picture book,  "Cancer Hates Kisses."
"Cancer Hates Kisses" features a sweet brother & sister duo who proudly share their superhero Mama's brave battle with breast cancer. Beginning with her diagnosis when she became a cancer-fighting superhero, the two chronicle each  stage of her cancer—the surgery that wipes out the meanest cancer and leaves scars which Mama calls "warrior wounds," and the children kiss—"cancer hates kisses." Followed by chemotherapy--a mighty drug that "poisons the sneaky, hidden cancer," and causes Mama's hair to fall out and radiation that destroys "the teeniest, tiniest cancer."
Mika Song's charming illustrations, coupled with Sliwerski's simple, honest text, make"Cancer Hates Kisses" an ideal book for talking with children about cancer. Gentle, encouraging and highly recommended. 
Author Jessica Reid Sliwerski is a literacy specialist, reading enthusiast, and former elementary school teacher. In her note from the author, she shares that shortly after the birth of her daughter, she was diagnosed with invasive breast cancer.  "'Cancer Hate Kisses' is the story of how my baby, with her kisses and smiles and snuggles and laughter, gave me the superhero courage to fight cancer…I wrote this book to give families touched by cancer an empowering way to speak to children about the disease while also providing children with a mechanism for supporting their loved one through a difficult time." 
A parent's breast cancer diagnosis affects their whole family. Often parents are concerned about how best to explain what is happening to their children, especially if they are very young. Finding a "just right" book can make all the difference when helping young children deal with difficult challenges such as parent's cancer diagnosis. Picture books such as "Cancer Hates Kisses," "Zoey's List of Love: A Sweet, Breast Cancer Survival Story" by Lisa Klenoshek; "The Goodbye Cancer Garden" by Janna Matthies; "Punk Wig" by Lori Ries are excellent ways to help.  
Adults facing the challenge of explaining difficult topics such as breast cancer but aren't sure where to start are always welcome to contact a CCPL Staff Member who will be happy to assist with the selection of age-appropriate books.