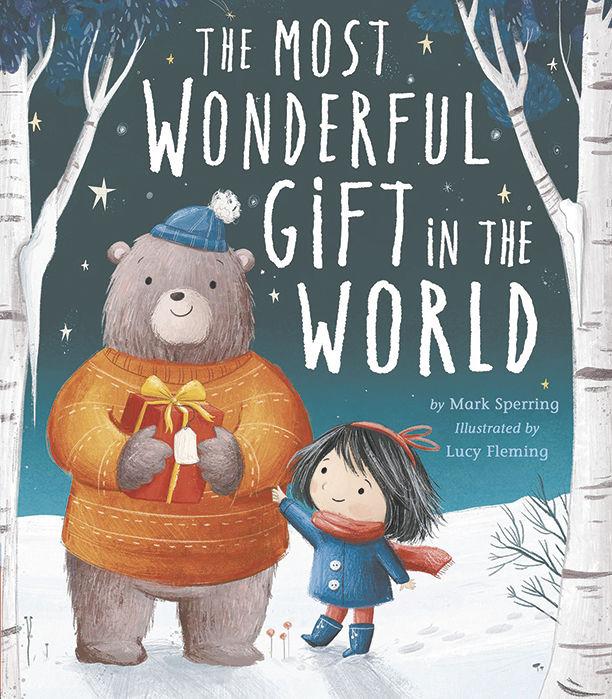 This week CCPL Great Reads For the Season spotlights a trio of new children's holiday titles perfect for sharing with young Christmas readers. 
First up is "The Most Wonderful Gift in the World" by Mark Sperring, illustrated by Lucy Fleming.  
It's Christmas morning, and Esme and Bear have just finished opening their presents when they see one last gift under the tree. Both are excited to think it might be for them, and are surprised to find that the tag says "For Little Bunny Boo-Boo, Love Santa." Oh, no!  Someone's gift has been left at their house by mistake! What should Esme and Bear Do? Open it? No, of course not! They decide to find Little Bunny Boo-Boo and make sure she gets her gift.
Esme and Bear set out on their journey, which takes them down the Treacherous Path—with slippy, slidey parts, and into the Howling Gale.   They then trudge through deep, deep snowdrifts (they were really, really deep!) until they find Little Bunny Boo-Boo's snow-covered cabin. They travel on the Treacherous Path through the snow, encounter the Howling Gale, and push their way through deep, deep snowdrifts to Little Bunny Boo-Boo's house. When they arrive, they are so happy that they've made the journey, especially when they see Little Bunny Boo-Boo's happiness and when they see that she doesn't hasn't received one single Christmas present. As Bear hands her the gift, the three huddle together to see what's inside. Is it a game? Peppermints? Or could it be something magical? 
Mark Sperring's sweet story blended with Lucy Fleming's whimsical illustrations makes "The Most Wonderful Gift in the World" a perfect Christmas tale about the magic of friendship. A great holiday bed-time read or read-aloud for children age three to seven. 
Next on the list of fun holiday reads is "Llama Llama Secret Santa Surprise" by Anna Dewdney.
When teacher Zelda Zebra tells Llama Llama's class that it is Secret Santa time, Llama Llama and his friends are excited (and just a little nervous).  Drawing a friend's name and finding a gift for them while keeping it a secret sounds fun—and just a little hard. Llama Llama wants to find the perfect gift to give and soon discovers something new: giving a gift to a friend makes you feel happy! 
"Llama Llama Secret Santa Surprise" is a fun print adaptation of the Secret Santa Surprise episode of the popular Netflix Llama Llama series.
Last, but certainly not least on this week's list is an adorable board book entitled "Teeny Tiny Santa," written by Rachel Matson and illustrated by Joey Chou.
In a teeny tiny village on a cold and bright night, a teeny tiny fox fears he is too small to receive a visit from Santa. But when this teeny-tiny fox hears a teeny tiny ho ho ho... Well, it turns out to be a most magical night!
"Teeny Tiny Santa" is filled with bright, bold illustrations, and bouncy rhymes—a perfect holiday lap-sit read!
Other new children's holiday titles to enjoy: "Pout-Pout Fish Christmas Spirit" by Deborah Diesen, illustrated by Dan Hanna; "Christmas is Here!" by Charles M. Shultz, adapted by Ximena Hastings, illustrated by Robert Pope; "Santa's Cookie is Missing!" by Chris Ayala-Kronos, illustrated by Anne Passchier, and "Merry Christmas, World" by Aleksandra Szmidi
It's a most wonderful time for holiday reading with these and other CCPL Great Reads for the Season from the Calloway County Public Library!  CCPL is located at 710 Main Street.