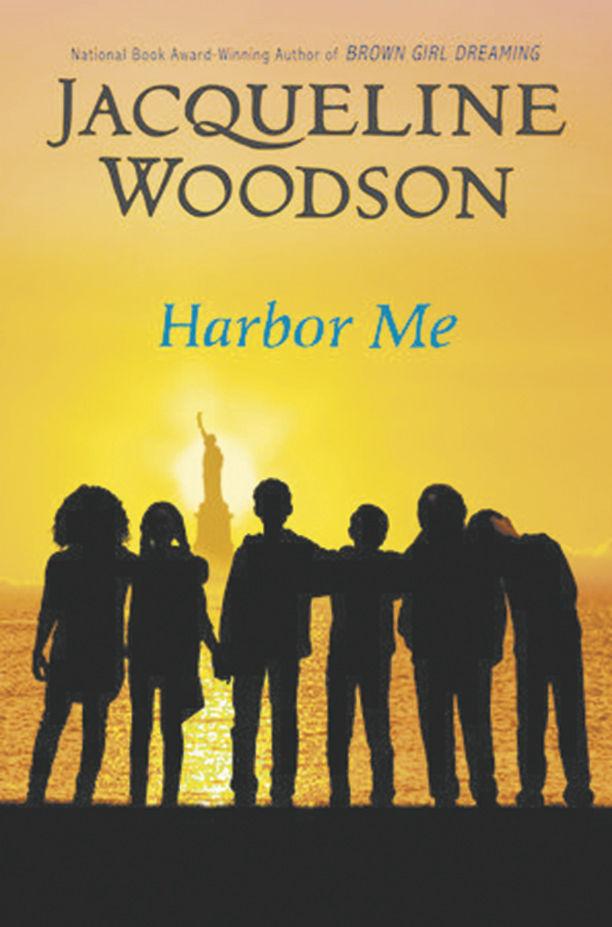 Last spring, in anticipation of the KPLA Spring Conference keynote address by four-time Newbery Honor Medalist and Coretta Scott King Award winner,  Jacqueline Woodson, CCPL Great Reads featured her middle school novel, "Harbor Me." As hoped, Jacqueline Woodson's presentation was outstanding, and having the opportunity to meet her and finding her to be one of the nicest people one could hope to meet was an experience beyond compare! After hearing Ms. Woodson's inspiring story and learning how she came to write "Harbor Me," I knew that it was just the title to feature as the annual young adult selection for CCPL's Brown Bag Book Club January Discussion. Since the title afforded the group such a marvelous discussion, CCPL Great Reads is pleased to present a second look at "Harbor Me" by Jacqueline Woodson.
"Our class was different," Haley recalls. "At first, there were eight of us that they put together to try something new: Could they put eight kids together in a room with one teacher and make something amazing? Eight special kids." The school was aware that the eight learned differently.   The school also knew that the eight sometimes got laughed at and teased and that there were days that one or more of the eight would fake sore throats or some other illness so they could stay home.  At the beginning of September, no one knew how this new class would work, but the students immediately knew they loved their teacher, Ms. Laverne. By the end of the first week, two students had left, and only Ms. Laverne and six remained.
It is Ms. Laverne, who, on a Friday afternoon in late September, asks her students to put down their pencils, gather their things, and follow her.  The class of six does as she asks and find themselves in Room 501—an old art room.  Ms. Laverne explains that every Friday, until the end of the school year, the six will meet in Room 501, sit in a circle and talk about things kids talk about when no grown-ups are around.  "It is there," the publisher writes "in the room, they soon dub the ARTT Room (short for "A Room to Talk"), they discover it is safe to talk about what's bothering them—everything from Esteban's father's deportation and Haley's father's incarceration. Amari's fears of racial profiling and Ashton's adjustment to his family's changing fortunes.  When the six are together, they can express the feelings and fears they have to hide from the rest of the world.  And together, they can grow braver and more ready for the rest of their lives."
"Harbor Me" is a moving story that reminds us all, no matter the age or where we come from, that sharing our stories and helping others through life's challenges is important. Woodson's beautiful, lyrical writing weaves a compelling story of the transformative power of acceptance and friendship. Highly recommended for readers from middle school and beyond.
Jacqueline Woodson's titles, including "Harbor Me," "Red at the Bone," and "The Day You Begin," are available in a variety of formats at the Calloway County Public Library. CCPL is located at 710 Main Street and online at www.callowaycountylibrary.org.