This week CCPL Great Reads is pleased to feature Leslie Meier's  "Invitation Only Murder," the 26th installment in her popular Lucy Stone Mystery Series.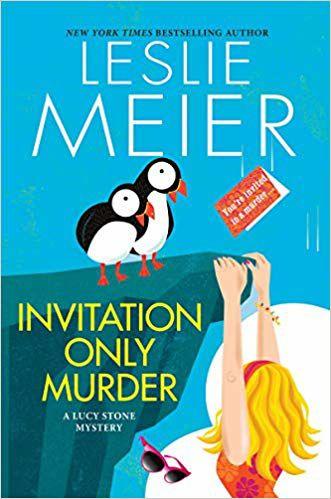 Tinker's Cove is all abuzz about billionaire Scott Newman's recent restoration of Fletcher's Island. The wealthy and eccentric preservationist had caused a good deal of controversy when he first offered to buy the island, restore and preserve it, and then donate it to the land trust (reserving the right to retain it for his use during his lifetime, all with lots of strings attached and huge tax deductions for him)—and then creating a project that would keep the island off the grid, and remain free of modern innovations and allow only nineteenth-century technology. Many of the locals hired to work on the island had found his insistence on no modern technology amusing since it had taken not only thousands of kilowatts of electricity provided by generators but also a great number of workers who had to be ferried to and from the island on powerboats that burned gallons of fossil fuel to complete the work. None the less, Tinker Cove citizens were anxious to see the finished results of the multi-million dollar project and looked forward to the invitation-only party celebrating the restoration project and the subsequent donation of the island to the Coastal Maine Land Trust.  
While attending the fantastic "Night to Remember" party, Lucy finds herself fascinated by the lifestyle choice that Scott Newman has made for his family. When she shares her idea of a possible story, Scott invites her to come and stay for a few days to see it for herself firsthand. An invitation that Lucy is only too happy to accept,  although she isn't sure how well she will fair with no electricity and cell phone service.
Unfortunately, before Lucy can fully adjust to 19th-century life and get the real story behind the Newman family, she is horrified to discover the body Scott's daughter Parker lying on the rocks beneath a cliff. While the family believes Parker's death to be an accident, Lucy isn't so certain, especially after the island boats mysteriously drift off and wind up smashed to bits.  
Now, stuck on an isolated island with no communication to the outside world, Lucy must tap into the limited resources around her to outwit a cold-blooded killer—before it's lights out for her next!
Invitation Only Murder features Meir's clever plotting and suspenseful twists that are guaranteed to have readers curled up with a cup of tea turning pages long past bedtime to discover who the killer could be! A quick, entertaining read and highly recommended—especially for fans of cozy mysteries. 
Speaking of cozy mysteries, "Invitation Only Murder" would be a perfect book to use in the  Kensington Cozy Card program that CCPL became a part of in January. The program is a free loyalty program created by Kensington Publishing that rewards fans for reading cozy mysteries.   
Readers can find Leslie Meier's "Invitation Only Murder" and information about the Kensington Cozy Card Program at the Calloway County Public Library. CCPL is located at 710 Main Street and online at www.callowaycountylibrary.org.