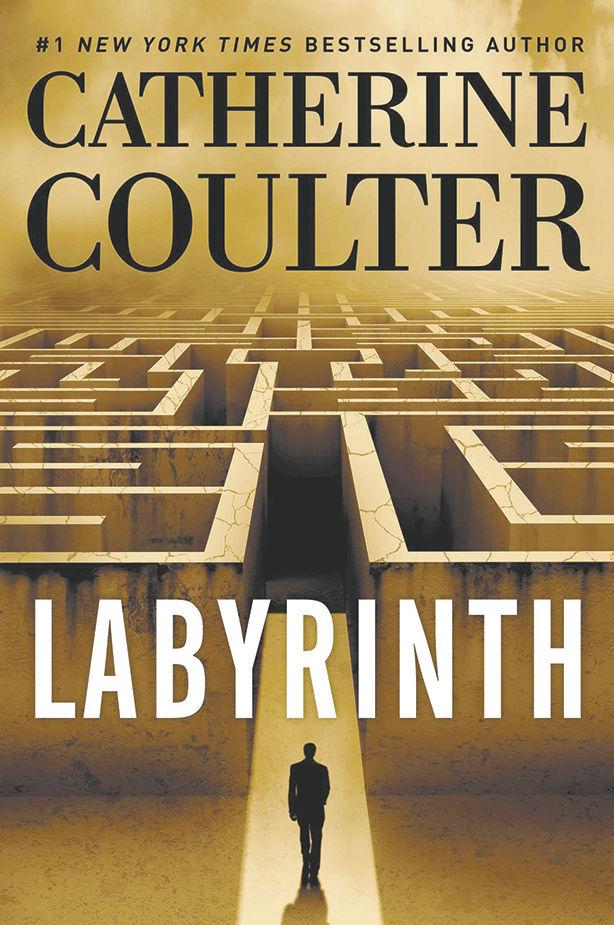 This week CCPL Great Reads features "Labyrinth" by Catherine Coulter.
Agent Lacey Sherlock's Tuesday afternoon had been planned to the minute. A quick stop at the market for a couple of things, a half-hour workout at the gym, and then home to help with Dillon with dinner prep. Not on the plan was for her Volvo to be T-boned at an intersection, her car spinning out of control, a man's body flying across her hood,  hitting her head, or the blackness that followed.
When Sherlock regains consciousness, she is being treated at a local hospital. While she has suffered a concussion, as well as cuts and bruises, her injuries were not life-threatening. Great news!  Not so great, however, is the fact that not only does Sherlock have no memory of the accident, and the moments that led right up to it, she also has none of Dillon and Sean. 
As Sherlock and Dillon come to grips with what they hope to be only a temporary loss of memory, they are concerned about the man that Sherlock struck—Justice Cummings a CIA analyst at Langley—who has vanished. 
Meanwhile, in the small town of Gaffer's Ridge, Virginia,  a vacationing Special Agent Griffin Hammersmith has just rescued Carson DeSilva, a kidnapped woman who claims her captor, Rafer Bodine, admitted to the murder of three teenage girls.  Unfortunately, when the local authorities are called, they learn that Rafer is not only the Sheriff's nephew but also a  member of a powerful family reputed to have special abilities. After Sheriff Bodine arrests Griffin and Carson, Griffin calls Savich for help. A labyrinth of lies hides a terrible secret in the small town—a secret they must work together to uncover before another young woman disappears.
"Labyrinth" is a fast-paced, cleverly plotted thriller filled with suspenseful twists and turns guaranteed to keep readers on the edge of their seats to the last page--Catherine Coulter at her best!  
Catherine Coulter is the author of over 84 novels, including 79 New York Times bestsellers. "The Cove," the first book in her bestselling FBI Thriller Series spent nine weeks on the New York Times list and has to date sold over 3 million copies. Since then she's written 23 more bestselling thrillers in the FBI series, including "The Maze," "The Target," "The Edge," "Riptide," "Hemlock Bay," "Eleventh Hour," "Blindside," "Blowout," "Point Blank," "Double Take," "Tailspin," "Knockout," "Whiplash," "Split Second," "Backfire," "Bombshell," "Power Play," "Nemesis," "Insidious," "Enigma," "Paradox," and "Labyrinth." She is currently working on the 24th FBI thriller entitled "Deadlock" which is slated for publication in 2020.
Catherine Coulter's FBI thrillers are available in a variety of formats, including print, eBook, and eAudio, at the Calloway County Public Library. CCPL is located at 710 Main Street, and online at www.callowaycountylibrary.org.