"The more that you read, the more things you will know.  The more that you learn, the more places you'll go."—Dr. Seuss, "I Can Read With My Eyes Shut"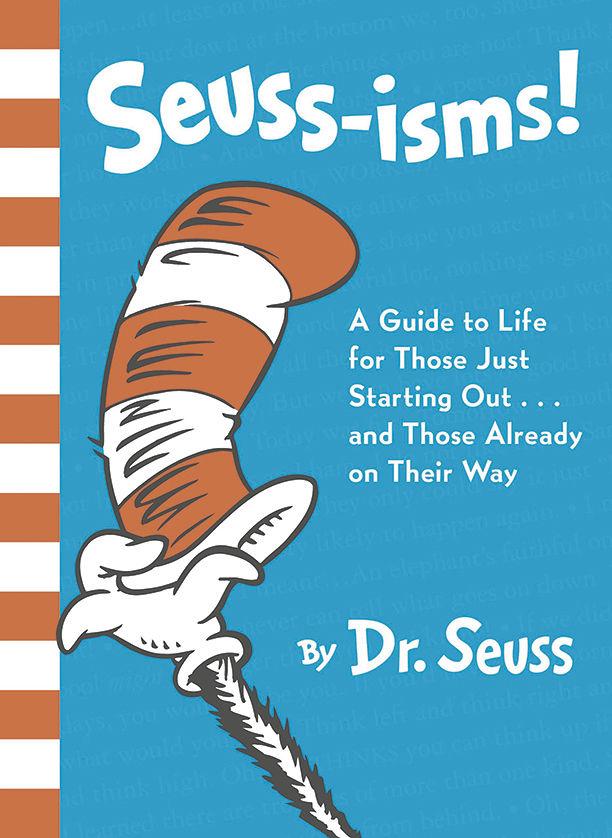 In honor of the upcoming anniversary of the birth of Theodor Seuss Geisel (aka Dr. Seuss), CCPL Great Reads is pleased to again spotlight "Seuss-isms! A Guide to Life for Those Just Starting Out…and Those Already on Their Way."
Dr. Seuss is one of the most beloved children's book authors of all time. Generations of children fell in love with delightful characters such as The Cat in the Hat, Horton the Elephant, Marvin K. Mooney, and Yertle, the Turtle, while they learned to read.  Because of his tremendous contribution to literacy, his birthday of March 2 was selected as the official National Education Association Read Across America Day.  No matter the age,  a lot can be learned from the wisdom of Dr. Seuss.  
"Seuss-isms! A Guide to Life for Those Just Starting Out…and Those Already on Their Way" is a delightful collection of quotes from 36 of Dr. Seuss' best-loved books including "Oh, the Places You'll Go!," "The Cat in the Hat," "Horton Hears a Who!," "The Lorax," "Green Eggs and Ham," "Hop on Pop," and "How the Grinch Stole Christmas!" Filled with timely quote selections offering advice on how to be true to yourself, thinking before speaking, telling the truth, and much more.  Can everything one needs to know about life be found in this inspiring collection? Perhaps not, but it is an awfully good place to start!  
Dr, Seuss was the pseudonym for the talented Theodor Seuss Geisel.  As Dr. Seuss, he wrote and illustrated over 40 books. He also authored but did not illustrate several books as Theo. LeSieg and Rosetta Stone. His books have been translated into 30 languages, and hundreds of millions of copies have been sold throughout the world. Dr. Seuss's impressive list of awards includes Caldecott Honors for McElligot's Pool If I Ran the Zoo, and Bartholomew and the Oobleck; the Pulitzer Prize; and eight honorary doctorates. Works based on his original stories have won three Oscars, three Emmys, three Grammys and a Peabody.
Speaking of Dr. Seuss's birthday, children age two to 10, accompanied by an adult, are invited to a Seuss-A-Thon, a come and go birthday celebration, on Monday, March 2, 10 a.m. to 6 p.m. at the Calloway County Public Library.  
The Seuss-A-Thon celebration is sponsored by the Calloway County Public Library, the Murray Family Resource Youth Center, Laker Lighthouse Family Resource Center, and the Laker Cove Family Resource Center. Children (and adults) may stop by any time throughout the day to enjoy fun activities, games, guest readers, shared reading time, snacks, and more!  Presented free of charge; no pre-registration is required.
Dr. Seuss titles are available in a variety of formats, including print and eBook at the Calloway County Public Library. CCPL is located at 710 Main Street and online at www.callowaycountylibrary.org.