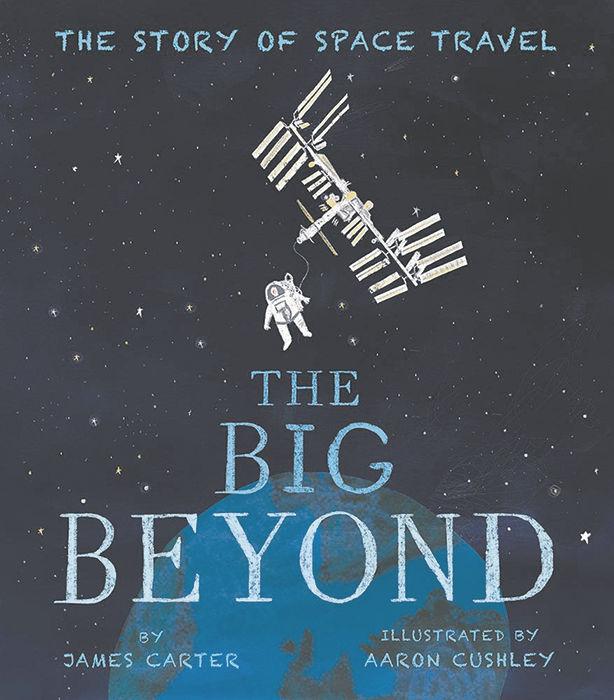 The Calloway County Public Library 2019 Summer Reading Program, "A Universe of Stories," officially kicks off on Monday, June 3. This week CCPL Great Summer Reads spotlights "The Big Beyond" by James Carter and  Aaron Cushley along with a selection of new children's non-fiction and fiction titles perfect for launching into "A Universe of Stories" and a summer filled with great reading!
Since ancient times, people have watched the sky, wondered what exists beyond the clouds, and wished to fly. Sky watchers longed for answers to such questions such as "how deep is space," "Does planet Mars have a life like ours?"  
Through telescopes stars and planets were discovered and we learned that we're in the Milky Way and that there are endless galaxies. The ability to fly evolved from balloons, gliders, planes and in 1957…rockets finally soared through the clouds into the big beyond! 
"The Big Beyond" is a marvelous introduction to space exploration, chronicling each milestone.  Readers will also enjoy the "Let's Look Into…" section, which provides fascinating facts about rockets. Simple text and engaging illustrations make "The Big Beyond" an ideal book for sharing with young space enthusiasts. 
Readers will also enjoy "Moon Landings" by Shoshana  Z. Weider, a level-four DK Reader that details the Apollo spacecraft missions, the astronauts of the Apollo program, and Spaceships and Rockets by Deborah Lock, a level-two DK Reader that describes the parts of a rocket, launches, and space missions.  
CCPL's youngest space explorers are certain to enjoy "There's a Rocket!", an interactive board book, by Esther Aarts. The beautifully illustrated pages feature rhyming text and finger sized holes that allow readers to peek through, to see what the holes become—a  perfect book for lap-sit sharing.  
Other new and recommended juvenile space titles include: "Breakthroughs in Space Travel" by Wil Mara, "Becoming an Astronaut" by Ellen Lawrence, "The Universe Began With a Bang and Other Cool Space Facts" by Kimberly Hutmacher, and "My Journey to the Stars" by Kelly Scott.
Readers can find these, and other CCPL Great Summer Reads in a variety of formats at the Calloway County Public Library. CCPL is located at 710 Main Street and online at www.callowaycountylibrary.org.
CCPL's Summer Reading Program is a fun and entertaining program designed to encourage kids and their families to enjoy the public library and reading during the summer break from school. The program encourages reading for pleasure, which, in turn, helps kids maintain and strengthen their reading skills while on break from school. Children age two through twelve may participate. Learn more about CCPL's 2019 Summer Reading program at www.callowaycountylibrary.org.