MURRAY – After demonstrations protesting recent killings of unarmed black men by police turned violent in multiple U.S. cities over the weekend, attendees of two events held Monday in Murray could have reminded the nation how to make one's voice heard in a peaceful way.
Monday afternoon, dozens of people gathered at the Arboretum at Murray State University and marched toward 12th Street before turning back onto Main Street and finishing where they started. The group was racially diverse and made up mostly of college-aged people.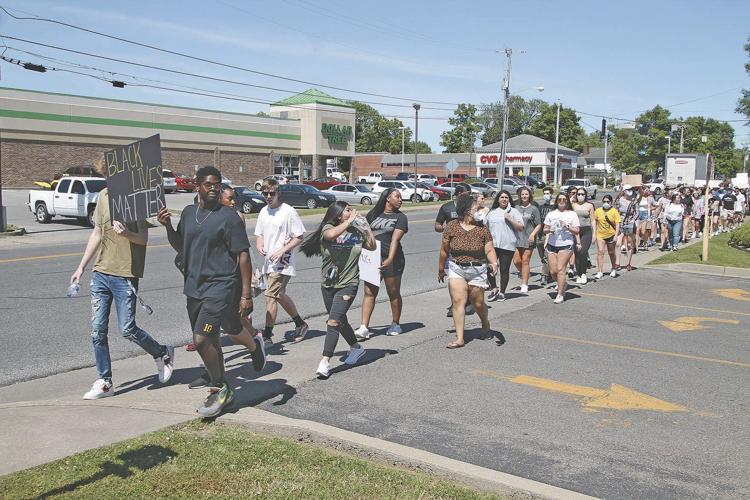 Victor Hudspeth, who is black, is from Murray and is entering his junior year at Murray State University. He said he began planning the march the night before after he felt compelled to speak out.
"It was around 6 or 7 o'clock (Sunday) night, and I was on Twitter and I just felt like I needed to do this," he said. "God put it on my heart for me to do this and I felt like it was the right thing for me to do. We did this for everybody."
Hudspeth said he was glad the march went smoothly.
"It was a successful day," he said.
Kayla Crutcher and Shannon Davis-Roberts, who are both white, co-organized a vigil that began in the parking lot of Roy Stewart Stadium and moved up to 12th Street, where a long line of attendees stood with candles and signs as vehicle after vehicle rolled past honking their horns. Crutcher said she and Davis-Roberts couldn't take all the credit, and there were plenty of others involved as well.
"I woke up one day last week and I couldn't just not do anything anymore," Crutcher said. "I had a vision of us coming together as a community with our brothers and sisters of color and praying, mourning with them. We have a lot of violence going on around us right now, and this is the message that especially the people of color in our community wanted to express today. We want peace, we want solidarity, but we also want equality, and the message that we're sending here today is that."
Crutcher said the event was planned in three days, and she had hoped turnout would be good, but she said she could not have predicted how many would end up coming.
"It's overwhelming; it's beautiful; it's emotional," she said. "I'm so grateful. This is more than I could have imagined. I think everyone can agree with that."
MarTeze Hammonds, a Murray native who now lives in Dallas, was the keynote speaker. Hammonds, who is black, is the senior consultant for diversity and inclusion at the American Cancer Society and also owns his own company that focuses on those areas, MDH Consulting Group, LLC.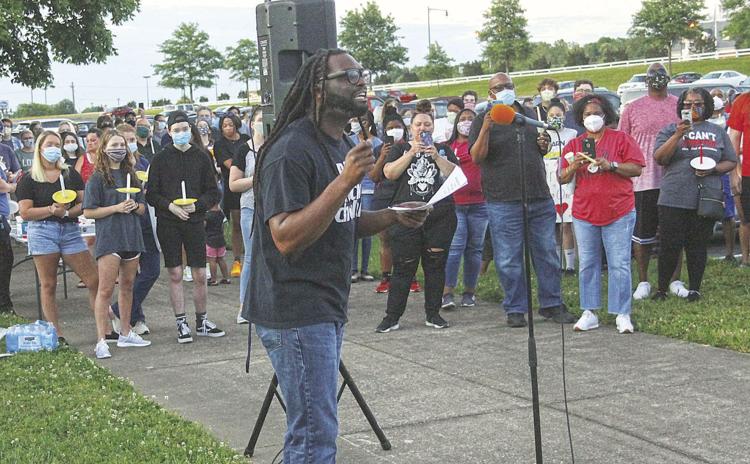 "Tonight, the goal was to just give a bit of information to empower people to be here, to be in this space, to really think about why it's important that injustice anywhere is truly injustice everywhere, as Dr. (Martin Luther King Jr.) said," Hammonds said. "So my goal was just to really portray that and make sure folks understand that we need you in this space. It doesn't matter your race, your color, your sexual orientation, your gender, your religious affiliation, disability, ability; no matter what it is, we need you in this space of diversity, inclusion, empathy – not sympathy."
Brian Clardy, who is also black, is a history professor at Murray State and said a prayer at the beginning of the vigil. He said he was pleased that the vigil, which lasted about two hours, was so peaceful.
"I've been looking at all the events that have happened around the country with the violence and the looting, and that really disturbs me because that is not the way," Clardy said. "I take nonviolence very seriously and I took the lessons of Dr. King literally, and you're not going to get anywhere by burning cars and throwing things at police. It's going to be through gatherings like this, where people can vent their anger in a loving, constructive way. Because the Bible I read says, 'Be angry and sin not.'"
Clardy added that he was excited that the vigil and the march earlier in the day attracted such a diverse crowd.
"It makes me feel great," he said. "Murray stepped up and did it the right way. In a university town like this, where you've got scholars and thinkers across a diverse array of different disciplines, I would expect no less. Murray delivered, and I hope that through our example, the rest of the country will see that this is the way you demonstrate dissent – through collective, nonviolent action. That is the only sensible solution."