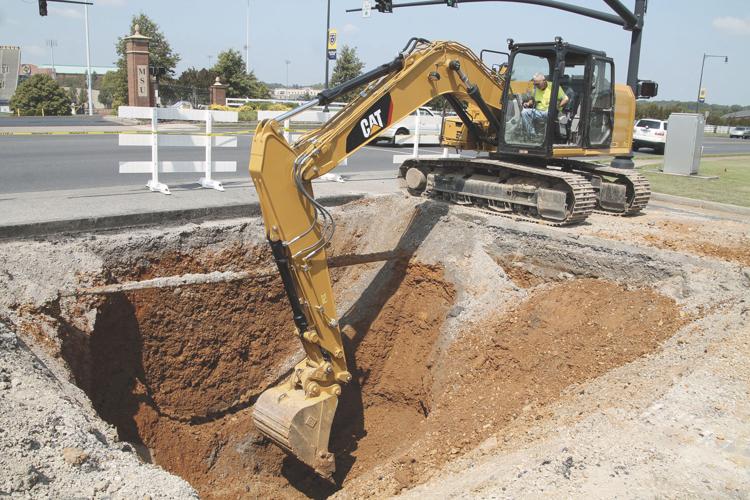 MURRAY —Repairs being made to a suspected sinkhole just off of U.S. 641 in Murray near Roy Stewart Stadium will hopefully be completed by Friday, according to officials with the Kentucky Transportation Cabinet. 
Keith Todd, public information officer for KYTC's District 1, said a cavity resembling a sinkhole had formed along a frontage road just off the highway near the Shops of Murray shopping center. According to an earlier release from KYTC, someone had reported what appeared to be a hole the size of a volleyball in the pavement. After investigation from the Murray Police Department and the City of Murray Public Works Department, the area was closed and barricaded pending further investigation. 
KYTC engineers conducted a more detailed investigation of the hole Tuesday morning and found it extended about 20 feet below the surface, with a roughly 40-foot diameter at the bottom. Todd told the Ledger Wednesday that the KYTC Calloway County Highway Maintenance Crew worked with the City of Murray Public Works Department on Wednesday to excavate the site and engineers found a cavity had been formed near the intersection of three stormwater drainage pipes. 
Todd said engineers determined that the cavity is not actually a sinkhole, which is a natural occurrence. 
"Plans from the 1980s indicated there was a large drainage pipe beneath the asphalt," Todd said. "However, during excavation engineers discovered there are three large drainage tiles that connect under the roadway at this site that likely date back to the 1970s."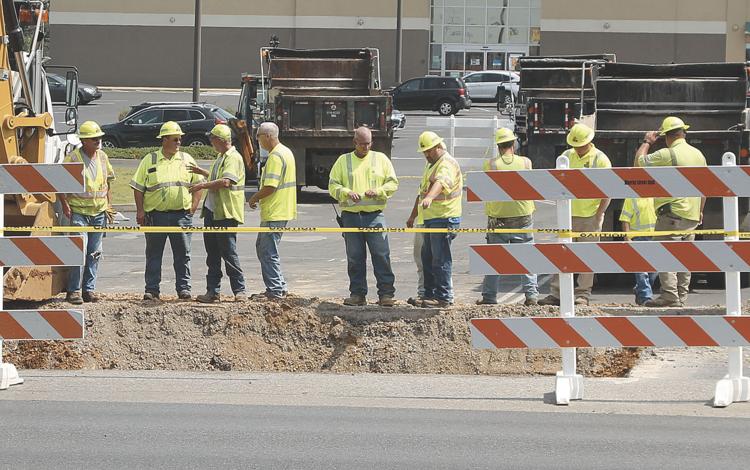 "As they dug into this thing, they knew that there was a major drain pipe down there. Apparently, there are three drainage pipes that come together at that location," Todd said. "They believe they were installed back in the 1970s maybe, and where they came together, the consensus seems to be, that things weren't engineered quite as well as they could have been. So it caused more of a washout situation and created a void under the roadway." 
Todd said the pipes are about 22 feet below the surface, and that crews got them excavated Wednesday. He said crews would be at work at 6 a.m. today to begin getting new materials installed, and said that hopefully by noon or shortly after, everything could be covered over and capped off.
"Murray Paving will be coming in to look at putting a patch over the spot," Todd said. "So we are hoping that by sometime Friday things will be pretty much back to normal." 
City of Murray Road Superintendent Ron Allbritten said the city has also been dealing with its fair share of problems stemming from aging storm drains. 
"We find that all the time; it is not an uncommon problem, but the one on 641 is uncommon because of the size and depth of the pipe," Allbritten said. "Typically we will see that, but most of our stormwater system that is in the city is not that deep. But we do find those problems all over town. 
"Especially depending on how long the pipe has been in there. If it has been in there 40 or 50 years, we really start seeing problems when they get that age."