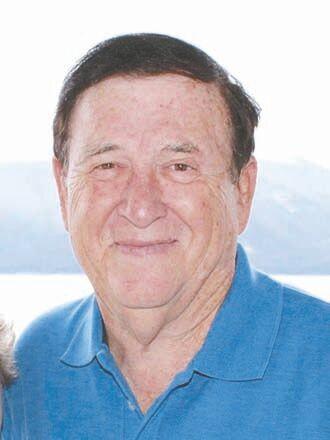 William Taft 'W.T.' Patterson
William Taft "W.T." Patterson, 78, of New Concord, Kentucky, passed from this life on Feb. 12, 2021, at his daughter's home in Nashville, Tennessee, after a courageous year-long battle with cancer.
He was born July 7, 1942, at his family's homeplace on the Tennessee River, now known as Patterson's Landing in Kentucky Lake, near New Concord, to William Taft Patterson and Louise Oliver Patterson.  
He was a lifelong member of New Concord Church of Christ where he also served as an elder for the last 22 years. He attended Murray State University where he received a bachelor's degree, as well as two graduate degrees, a master's degree and education specialist degree. He was an educator in the Calloway County School System for 34 years. During that time, he taught, coached multiple sports, and was a principal at Faxon Elementary, served as an assistant boys' basketball coach at Calloway County High School, worked as a school bus driver, and taught multiple subjects at East, Calloway County Middle School and Calloway County High School.  After his retirement, he was named an honorary Kentucky Colonel for his many years of faithful service to his community.  
He was beloved by all and always enjoyed laughing and playfully joking. He loved the outdoors and was known for growing the best tomatoes, which he shared with everyone. He loved tending his garden and at different times dabbled in such hobbies as bee keeping and propagating fruit trees. He was an avid hunter and fisherman. He loved taking adventurous rides on his four-wheeler with his trusted canine buddy Spike, training hunting dogs, and working on his many projects – he could build or fix just about anything. On game days, you could find him at home cheering on his beloved University of Kentucky Wildcats or St. Louis Cardinals.  
Mr. Patterson is survived by his cherished wife of 50 years, Linda; his daughter, Paige Pope and husband Tim of Nashville; his son Payton Patterson and wife Kristy of Panama City, Florida; six grandchildren, Will and John Andrew Patterson of Panama City, Rivers and Ava Pope of Nashville, Chory Pope of Grand Rapids, Michigan, and Abby Pope of Birmingham, Alabama. He is also survived by his sister, Peggy Mitchell and husband Darrell of New Concord,  who were his next-door neighbors and best friends for the past 50+ years; his special sister-in-law, Miriam Joiner of Atlanta, Georgia; niece, Darra Benson; great-niece, Lauren Rojas (Hector); and great-nephew, Will Benson, as well as numerous other cousins, nephews, nieces and friends.  
Mr. Patterson will be honored at a visitation and celebration of life service on Saturday, Feb. 20, 2021, at the J.H. Churchill Funeral Home & Cremation Services. Visitation will at 10 a.m. and followed by a 1 p.m. service, which will also be livestreamed on the funeral home Facebook page. Burial will follow in Murray City Cemetery. 
In lieu of flowers, the family request donations be made to the St. Jude Children's Research Hospital or to the West Kentucky Youth Camp in Marion.  
Online condolences may be left at www.thejhchurchillfuneralhome.com.
The J.H. Churchill Funeral Home & Cremation Services is in charge of arrangements.
---
Avery Michael Farmer
Avery Michael Farmer, 17, passed away tragically, Tuesday, Feb. 9, 2021, from a car accident in Oldham County, Kentucky.
He was a member of Southeast Christian Church. He loved his church, he was a disciple of Christ, and never met a stranger. He was a senior at Martha Lane Collins High School. He loved fishing and playing golf. He was an avid lover of music and enjoyed playing the guitar.
Avery is survived by his parents, Matt and Melissa Farmer of Simpsonville; his sister, Madelynn Farmer of Simpsonville; his grandparents, Jeff and Laura Rankin, and Steve and Janet Farmer of Murray; his uncles, Shawn Rankin, Scott Farmer, John Farmer, Brian Florko, David Bowen, Thomas Edwards and William Turner; his aunts, Kristen Florko and Kelly Rankin, and his great-grandfather, Barc Brown.
The funeral service was at 2 p.m. Saturday, Feb. 13, 2021, at Southeast Christian Church in Louisville, Kentucky in Fellowship Hall 2 of the main building. Visitation was from 11 a.m. until the time of service at the church.
Expressions of sympathy may be made to the Shine Ministries of Southeast Christian Church, 920 Blankenbaker Parkway, Louisville, KY 40243.
Shannon Funeral Services of Shelbyville was in charge of arrangements.
---
Wanda Faye Graves
Wanda Faye Graves, 81, of Milan, Tennessee, died Wednesday, Feb. 10, 2021, at the West TN Healthcare North in Jackson, Tennessee.
She was born Jan. 3, 1940, in Idlewild, Tennessee, to Benjamin and Lilly Laverne Bell Crowe, who preceded her in death. 
She was a member of Humboldt Church of Christ, and she was a retired sales associate at Walmart. 
She was preceded in death by her husband, James Edward Graves, and two brothers, Jimmy Crowe and Sammy Crowe.
Wanda  is survived by four children, Ben Graves and wife Michelle of Gladstone, Oregon, Greg Graves and wife Brenda of Humboldt, Tennessee, Glinda Paschall and husband Donnie of Hazel and Nancy Roberson and husband Glen of Rogers, Arkansas; one sister, Frankie Jackson of Atwood; four grandchildren, Holly Graves, Seth Graves, Tommy Paschall and Crystal Wyatt; and six great-grandchildren.  
The funeral service will be at 1 p.m. Saturday, Feb. 20, 2021, at Humboldt Church of Christ in Humboldt. Burial will follow in Gibson County Memory Gardens near Milan. Visitation will be from noon to 1 p.m. Saturday, Feb. 20, 2021, at the church.
Bodkin Funeral Home in Milan is in charge of arrangements. 
---
Mike Brunn
Mike Brunn, 85, of Kirksey, Kentucky, died at 11:50 a.m. Sunday, Feb. 14, 2021, at his residence.
Arrangements are incomplete at Blalock-Coleman & York Funeral Home.