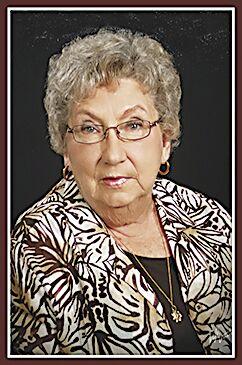 June Gray Overcast Ladd
June Gray (Overcast) Ladd, 90, of Murray, Kentucky, died Monday, Nov. 14, 2022, at Spring Creek Healthcare in Murray, surrounded by her family.
Born April 6, 1932, in Corpus Christi, Texas, she was the daughter of Bryan Cortez and Patye (Wall) Overcast.
She was an avid reader and gardener, spending many hours tending her flowers. She was an assistant manager at Sears in Murray, then a secretary at Ezell Beauty School and later worked in the business office at Murray Supply Company. After retirement, she and her husband Bill enjoyed traveling. She joined First United Methodist Church in Murray on July 18, 1948, giving 74 years of faithful service.
She was preceded in death by her parents; her husband, William Arthur "Bill" Ladd, whom she was married July 30, 1950 in Corinth, Mississippi; brothers, Thomas Overcast and Jerry Overcast; sisters, Marguerite Harrell and Eva Clees; and a grandson, Chip Turner.
June is survived by her children, Brenda Turner and husband Larry of Murray, Martha Green and husband Jim of Murray and Steve Ladd and wife Debbie of Murray; grandchildren, Jennifer Baumer and husband Mark of Prospect, Jonathan Turner and wife Peggy of New Concord, Dr. Neely Armes of Louisville, Trey Green and wife Cara of Benton, Amy May and fiancé Paul of Herrin, Illinois, Angie McCord and husband Jeremy of Murray and Dustin Ladd and wife Tara of Murray; 15 great-grandchildren; and a local niece, Lisa Darnell of Murray.
The funeral service was at 1 p.m. Saturday, Nov. 19, 2022, in the chapel of Blalock-Coleman Funeral Home with Jim Stahler officiating and Jennifer Baumer delivering the eulogy. Burial followed in Bonner Cemetery. Visitation was from 11 a.m. until 1 p.m. Saturday, Nov. 19, 2022, at the funeral home.
The family request memorial contributions be made to St. Jude Children's Research Hospital, 501 St. Jude Place, Memphis, TN 38105, or to the Kentucky Council of the Blind, 148 Vernon Avenue, Louisville, KY 40206.
Online condolences may be left at www.blalockcolemanfuneralhome.com.
Blalock-Coleman Funeral Home & Cremation Services was in charge of arrangements.
---
Eugene Lee Alton Jr.
Mr. Eugene Lee Alton, Jr., 79, of Murray, passed away on Tuesday, November 15, 2022 at his home.
Mr. Alton was born on March 10, 1943 in New Concord, KY to the late Eugene and Hilda Williams Alton. Gene proudly served his country in the United States Air Force. He loved everything about nature and he spent his childhood exploring the woods with his lifelong friend, Jerry Love. Gene and his loving wife, Kathy, spent many hours walking and enjoying the beauty of the outdoors as well as collecting antiques. You'd often find Gene woodworking and whittling wood with his cherished pocket knife given to him by one of his grandsons. Gene was a member of Hardin Baptist Church and in 2017 he was baptized by Ricky Cunningham at Jonathan Creek. This was a very special moment in his life as well as his family's life. Mr. Alton loved life and never met a stranger but what he loved the most was spending time with his beloved family. He will be missed by many.
He is preceded in death by his parents.
Those left to cherish many wonderful memories include his loving wife of 57 years, Mrs. Kathy Alton of Murray; sons, Vincent Alton and wife, Jody of Midland, TX, Dustin Alton and wife, Erin of Murray; daughter, Laura Dugger of Fancy Farm; grandchildren, Timothy, Nathan and Tristan Tracy, Noah and Jonah Alton as well as Josh and Alexis Alton. Also surviving are three great grandchildren, Micha, William and Riley Tracy.
The funeral service honoring the life of Mr. Eugene Alton, Jr. is set for 1 pm on Monday, November 21, 2022 at Imes Funeral Home. Ricky Cunningham will officiate and burial with military honors will follow at Murray City Cemetery. Pallbearers include, Timothy Tracy, Nathan Tracy, Tristan Tracy, Josh Alton, Noah Alton, Jonah Alton. His family welcomes visitors from 11 am - 1 pm on Monday, November 21, 2022 at the funeral home.
Please join family and friends in honoring the life of Mr. Eugene Alton, Jr. by visiting www.imesfh.com and posting your tributes and memories.
Imes Funeral Home & Crematory, downtown Murray, is in charge of arrangements and provided editorial content in its entirety for this obituary.
---
Anita Crowe
Anita Crowe, 79, of Murray, Kentucky, died Saturday, Nov. 19, 2022, at her home.
Funeral arrangements are incomplete at Heritage Chapel of Imes Funeral Home.
FUNERAL NOTICE
Imes Funeral Home & Crematory, downtown Murray
Eugene Lee Alton Jr.
The funeral service is at 1 p.m. Monday, Nov. 21, 2022, at the funeral home. Burial with military honors will follow in Murray City Cemetery.